How To Fix A Roof Leak
Important Guide on Going about a Roof Leak Repair
One of the many things that a homeowner will have to deal with at some point is Roof damage. Regardless of how sturdy is the materials that were used for the roof installation, wear and tear will always catch up at some point. When this happens, proper roof leak repair needs to be performed to make sure that the issue is not going to escalate to something worse.
When not fixed immediately, leaks can lead to water getting inside the house. When it reaches the interior, it can cause a myriad of problems that will not only destroy personal belongings but will also decrease the overall value of your home. Being aware of how to go about these repairs is imperative as it will help reduce the cost involved. Below are some tips that you can try doing yourself before you call any expert in.
Safety first
Always remember that working on your roof can come with some risks. Exercise caution. It is best if you will only work on your roof when there is somebody around to watch you. This way, somebody can lend a hand in case you need it. Also, make sure repairs are only done on good weather days and that the roof is dry to avoid slips and slides. Make sure to wear proper safety gear, safety ropes, and safety shoes too.
Determine where the damage is
It is useless to try a fix your roof when you have not pinpointed where the leak is coming from. Climb up the roof to mark the specific areas that require fixing. Check for missing or broken shingles. You can check the HVAC system in your home too to see if there are signs of algae as this would mean that the roof right above it may be experiencing leaks. Check for rust if the material is metallic. You can hose over the entire roof with water while somebody is inside your home to help you zero in on where the drips are.
Get the roof surface ready
The areas that need to be repaired should be dry and clean. It is important that they do not have any contamination. This is necessary to ensure that whatever repairs and fixes will be administered, they are indeed going to last for a long time. Otherwise, you will likely have to get the whole thing redone.
Fixing common damages
If there are curled shingles, straighten them out. If the shingles have been missing or damaged, you can reattach them with the use of some roof cement. If there are blisters, squeeze the water out by cutting a utility knife through it. Just be careful not to cut through the substrate underneath.
Always remember that regardless of the type of repairs that need to be done, it is crucial that you have the right contractors assisting you. This means making sure that you find those that are not only experienced but are reputable too. Be very sure to check their credentials and their licensing. Never hire one without any insurance. Most importantly do not hire the cheapest.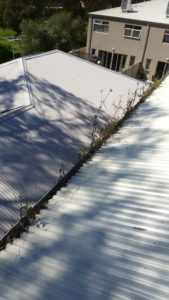 Burwood
Camden
Cumberland
Fairfield
Georges River
Hornsby
Parramatta
Penrith
Ryde
Strathfield
Waverley
Central Coast
Roof Repairs
Our team provides a comprehensive roof repair service. To prevent the need for a whole roof replacement contact us now.
Experts in Roof Repair
Our roof repair service includes general repairs, repairs of broken or damaged tiles, repair of roof hips and skellions and repair of water leaks
Roof Restoration
A roof restoration project can add significant value to your home
Freshen up your Roof
We specialise in the restoration of all types of roofs including; Colorbond, slate, metal, tin, terracotta and tiled.
Re-Roofing
Our team are experts in re-roofing and brand new roof installs
Roof Installs
A re-roofing or brand new roof install project can be stressful project, which is why you need the best contractors to help ease you through the process.
Roof Leaks
Act fast before a roof leak causes structural damage to your roof
Leak Repair
Roof leaks may be insignificant to begin with. However, they can soon turn into an expensive problem with water damage and mould spreading to other parts of your home
Guttering
Gutters and down-pipes are your roofs first defence against water ingress
Down-pipes
If not properly maintained your gutter and down-pipe system can soon cause an immense amount of damage to your home
Tile Pointing
After many years on your roof, tiles need to be re-pointed
Tile Bedding
Pointing has the function of binding the ridge capping onto the tiles so that the tiles do not get blown off in strong winds.